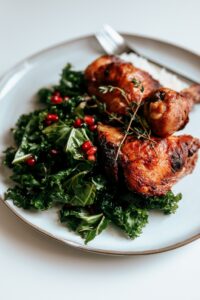 Immerse yourself in the rich, flavorful experience of Chicken Tandoori, a delightful dish that carries with it the cultural and culinary essence of the Indian subcontinent. Not only is this recipe delicious, but it's also keto-friendly, allowing you to savor every bite without compromising your diet.
Brief History of Chicken Tandoori:
Chicken Tandoori gets its name from the Persian word 'Tannur', meaning fire. It originates from the Indian subcontinent, specifically the Punjab region. The dish is traditionally prepared by marinating chicken in a mixture of yogurt and spices and then cooking it in a tandoor, a cylindrical clay oven. The unique cooking method and combination of spices give Chicken Tandoori its signature smoky flavor and vibrant color.
Ingredients:
6 chicken thighs, bone-in, skin-on
1 cup full-fat Greek yogurt
2 tbsp lemon juice
1 tbsp ground coriander
1 tbsp ground cumin
2 tsp garam masala
2 tsp paprika
1 tsp turmeric
1 tsp cayenne pepper (adjust to taste)
1 tsp black pepper
Salt, to taste
Fresh cilantro, for garnish
Lemon wedges, for serving
Instructions:
Prepare Chicken:

Clean the chicken thighs and make deep cuts on them to allow the marinade to penetrate.

Prepare Marinade:

In a large bowl, mix the Greek yogurt, lemon juice, coriander, cumin, garam masala, paprika, turmeric, cayenne pepper, black pepper, and salt to form a smooth marinade.

Marinate Chicken:

Coat the chicken thoroughly with the marinade. Ensure it reaches into the cuts. Cover and refrigerate for at least 2 hours, preferably overnight for the best flavor.

Preheat Grill:

Preheat your grill or oven to a medium-high heat. If using an oven, set it to broil.

Cook Chicken:

Place the marinated chicken on the grill or in the oven. Cook for about 30 minutes, turning occasionally, until the chicken is fully cooked and has a nice char.

Garnish and Serve:

Garnish with fresh cilantro and serve with lemon wedges on the side.
Serving Suggestion:
Serve the Chicken Tandoori with a side of cucumber salad or grilled vegetables to keep it keto-friendly, or consider a side of cauliflower rice for a complete meal.
Nutritional Information (Per Serving):
Calories: 310 kcal
Fat: 22g
Protein: 24g
Carbs: 5g
Fiber: 1g
Net Carbs: 4g
Enjoy your flavorful and keto-friendly Chicken Tandoori!
This dish is a beautiful amalgamation of cultural richness and culinary delight, offering a journey through the historical flavors of the Indian subcontinent while catering to your keto dietary needs.