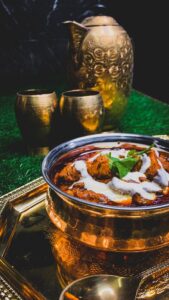 Mughlai Chicken is a decadent and royal dish that embodies the rich culinary legacy of the medieval Indo-Persian Mughal Empire, which ruled the Indian subcontinent from the early 16th to the mid-19th century. The Mughlai cuisine, a fusion of Central Asian and North Indian flavors, is renowned for its aromatic spices, creamy sauces, and intricate cooking techniques, showcasing the opulence of the imperial dining halls.
Origin & History:
Mughlai cuisine traces its roots to the imperial kitchens of the Mughal emperors, known for their love for elaborate and luxurious feasts. The culinary traditions were heavily influenced by Persian, Turkish, and Mongol cuisines, reflecting the diverse heritage of the rulers.
The Mughlai Chicken we relish today is a result of years of culinary experimentation and innovation within the royal kitchens, where chefs competed to create the most exotic and flavorful dishes to please the imperial palate. The recipes were meticulously crafted, with an emphasis on the balance of flavors and richness, indicative of the extravagant lifestyle of the Mughal emperors.
Traditional Mughlai Chicken Recipe:
The Mughlai Chicken is characterized by its luxurious texture, creamy and nutty flavor profile, punctuated with aromatic spices. Here's a glimpse into the making of this royal dish:
Ingredients:
Chicken pieces, preferably with bone
Yogurt, whisked
Onions, finely sliced
Ginger-Garlic paste
Almonds or Cashews, ground into a paste
Cream
Ghee
Spices: Cardamom, Cinnamon, Cloves, Saffron, Cumin, Coriander, and Garam Masala
Salt, to taste
Instructions:
Marination:

The chicken is marinated in yogurt, ginger-garlic paste, and a mix of ground spices to infuse flavors.

Cooking Onions:

In a pan, ghee is heated, and the sliced onions are fried until golden brown and caramelized.

Adding Chicken:

The marinated chicken is added to the pan and seared until browned on all sides.

Incorporating Nut Paste:

The nut paste and cream are added, creating a rich, creamy texture and adding a layer of nutty flavor to the dish.

Simmering:

The chicken is then simmered with aromatic spices until it's tender, flavorful, and the sauce is thickened to perfection.

Serving:

Mughlai Chicken is traditionally garnished with fresh coriander, slivers of ginger, and occasionally, with strands of saffron, and served with Naan or Basmati Rice.
Culinary Influence & Legacy:
Mughlai cuisine has significantly influenced the culinary landscapes of North India, Pakistan, and Bangladesh, leading to the creation of numerous localized variations of Mughlai dishes, each reflecting the distinct taste preferences and cooking styles of the regions.
Mughlai Chicken, like many other Mughlai dishes, is a representation of the culinary artistry and the amalgamation of diverse flavors that were the hallmark of the imperial kitchens. It's a dish that not only tantalizes the taste buds but also offers a glimpse into the lavish and eclectic culinary heritage of the Mughal Empire. The gastronomic journey of savoring Mughlai Chicken is like a rendezvous with history, experiencing the grandeur and extravagance of a bygone era.